California Country Club Estates
California Country Club Estates covers the grounds of the former California Country Club which Culver City founder Harry Culver established next to his Castle Heights home. ​In 1950, the club's then-owners – actor/director Frank Borzage, actor/singer Fred MacMurray, Hollywood manager Bö Roos, and actor/filmmaker John Wayne – sold to Sanford Dennis "Sandy" Adler (1909-1991), who developed the neighborhood in its place, starting in 1951. Sanford Adler had been many things: homebuilder, developer, hotelier, casino operator and Mob front man. Covered in hundreds of newspaper articles during his lifetime, Sanford Dennis Adler's death was barely noted in the Los Angeles press, when he passed away on June 13, 1991. The balance of this page, then, focuses on Sanford Adler.
Builder from Detroit
​​Sanford Adler was born in Providence, Rhode Island, the son of Eastern European Jewish immigrants. In Detroit, Michigan, he worked for builder Edward Rose (patriarch of Edward Rose & Sons) and started his own homebuilding company, Sanford D. Adler, Inc. (Detroit Jewish News, July 5, 1991 (obituary).) Before leaving Detroit, Adler built homes in the Sherwood Forest Neighborhood. Sherwood Forrest had (and still has) a mandatory homeowners' association – perhaps the inspiration for the association Adler would set up when he built California Country Club Estates. His Sherwood Forest houses include one for Max Martin Fisher (1908-2005), 19240 Parkside Road (Nov. 15, 1940) and another at 2845 Cambridge Road (Jan. 3, 1941).
After becoming wealthy "selling some 5,000 housing lots in Detroit" (Mob City: Reno (p. 149), Sanford Adler left "Detroit to develop hotels and subdivisions in Florida and California." (Detroit Jewish News, July 5, 1991.) In the early-1950s, West Los Angeles' California Country Club Estates neighborhood was his first, while his San Fernando Valley developments are better remembered. By the mid-1960s, he was building smaller homes in South Florida through his Living Conditioned Homes, Inc. company. There is even an eponymous 9-lot subdivision (Sanford D. Adler Sub 76-16 B) in Fort Lauderdale, Florida.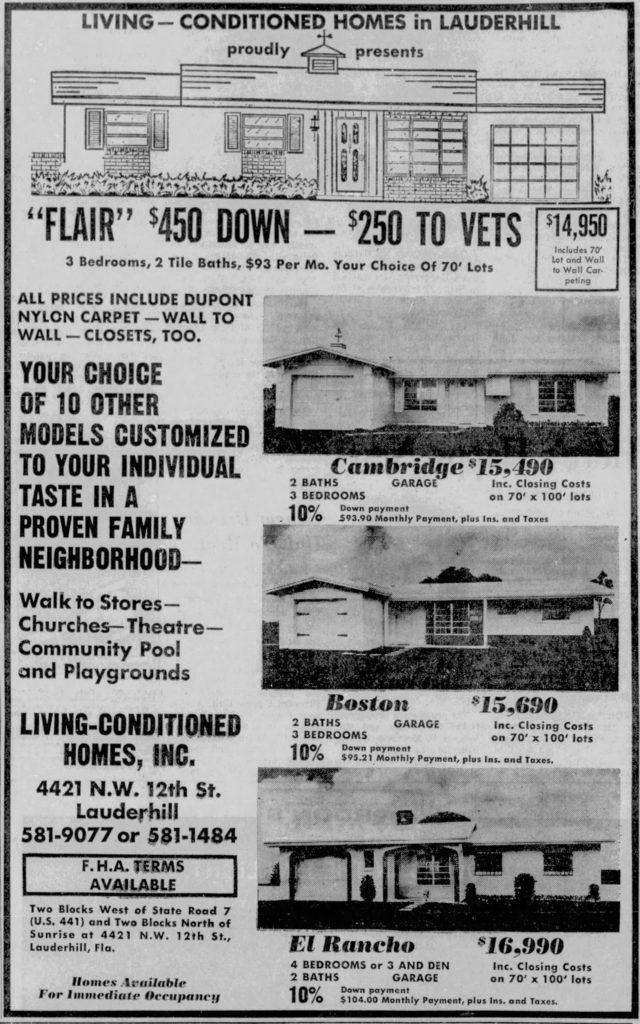 Sanford's son, Brian Dennis Adler, was president of another Adler Florida building company: Living Conditioned Homes Corp. But Brian Adler appears to have been more active in Los Angeles, where he was "co-owner of Harleigh Sandler Realtors and co-founder of Rodeo Realty, which he sold to Merrill Lynch Realty in 1982." (L. A. Times, Feb. 12, 1989.) Brian's Beverly Park development, "a 325-acre, guard-gated estate enclave adjacent to Beverly Hills" "is considered to be the premier guard-gated enclave in the United States." (MansionCollection.com, Brian D. Adler, Co-Founder/Owner/ President & Managing Broker (California).)
Hotelier & Casino Operator (1945-1956)
Adler's move west traces back to 1945. On September 2, the Los Angeles Times reported, under the headline "Rosslyn Hotel Purchased by Detroit Man," "The 1100-room Rosslyn Hotel and Annex at Fifth and Main Sts. . . . has been acquired . . . to be added to the hotel holdings of Sanford D. Adler, Detroit . . .." The reported price was $1,500,000.
A couple of weeks later, on September 17, 1945, the Times reported, "Purchase of Hotel Del Mar by Sanford Adler for a reported consideration of $750,000 …." It concluded, "Adler also owns the Rosslyn Hotels in Los Angeles and others in the East." This author has not learned anything of other Adler hotels "in the East."
In March 30, 1946, the Times reported that Adler had paid $450,000 for the "Normandie Hotel property and equipment at the corner of Sixth St. and Normandie Ave."
That was about the same time he got the El Rancho Vegas. "Thomas 'Tommy' Hull, an experienced hotel man (at the time he operated the Hollywood Roosevelt Hotel and the Miramar Hotel in Santa Monica) . . . built the El Rancho on a nearly bare stretch of desert along Highway 91– the Los Angeles Highway – just outside the Las Vegas city limits." (J. H. Graham, El Rancho Las Vegas.) "The Hotel El Rancho Vegas opened on April 3, 1941. It was the first resort casino-hotel on the strip." It was an addition to Hull's "chain of 'El Rancho' hotels in Gallup, New Mexico, and Fresno and Sacramento, California. The 63-cabin resort was designed as a way-station, a break for families to enjoy on their trip through Nevada, not as a casino property." (Nevada Casino History website.)
In March 1946, "it was reported that [Joe] Drown had leased the El Rancho to San Diego hotel man Sanford 'Sandy' Adler, who headed up a 'local syndicate of several corporate investors.'" (J. H. Graham, El Rancho Las Vegas.) "Charlie [Resnick], who was allegedly connected with Detroit's 'Purple Gang'" was one of those investors according to OnlineNevada.org.
In July 1947, Adler bought Las Vegas' Flamingo Hotel. The L. A. Times reported, "One of Benjamin (Bugsie) Siegel's rival hotel owners bought the slain gangster's ornate Flamingo casino for $3,000,000. He is Sanford D. Adler, who by the deal became president both of the Flamingo and El Rancho Las Vegas." Larry D. Gragg goes into more detail:
The aforementioned Moe Sedway and Gus Greenbaum were mobsters whose names may have been merged to inspire the name for the character "Moe Greene" in The Godfather. In November 1947, Adler controlled both the El Rancho Vegas and Flamingo, and he advertised for Angelenos to fly to Las Vegas for Thanksgiving.
​​Adler also marketed the Del Mar Turf and Surf Hotel with his Las Vegas properties: "Vacation Time At Your Favorite Resort Hotel" read the copy of an October 15, 1947, L. A. Times advertisement, featuring all three of the hotels.
Sanford Adler did not run the Flamingo for long. On April 16, 1948, the Los Angeles Times reported he would be selling:
With apologies to The Godfather author Mario Puzo, did someone make Adler an offer he couldn't refuse? Albert Woods ("Al W.") Moe, in The Roots of Reno (2008) (p. 205), put Adler's position at the Flamingo this way:
Beverly Hills Police Chief Clinton H. Anderson, testifying before the Senate Crime Investigating Committee (popularly known as the Kefauver Committee), gave his take on Adler's leaving the Flamingo:
The Kafauver Committee highlighted Adler's underworld connections and called him "a gambler with a long record of arrests":
This author does not have the so-called "long record of arrests," but a couple are found in newspapers. First, in August 1947, Adler "was booked on a charge of possession of gambling equipment . . . after a Sheriff's raid on the Hotel Del Mar garage." "Sheriff Bert Strand said Adler . . . was booked on a misdemeanor charge of violating a county ordinance prohibiting possession of gambling equipment and was released on $250 bail. Sheriff Strand termed the raid a 'prevention move.' No one was operating the games." (L. A. Times, Aug. 9, 1947.) "The equipment seized was roulette wheel, three dice tables and two blackjack tables, which Henry Paronelli [who claimed to be their owner, and to whom Adler said he had leased the garage] valued at $55,500." (San Bernardino Sun, Aug. 12, 1947.) A retrial was set for January 15, 1948, after Adler's "first trial ended Nov. 20 when the jury reported an 11-to-1 deadlock." (L. A. Times, Nov. 28, 1947.) Which way the 11-1 jurors had tilted and whether a retrial was held has not been uncovered.
A year after the gambling machine arrest, in August 1948, the Los Angeles Times reported Adler's arrest at his home (by the police "antigangster squad") on a two-year-old battery warrant: The battery complaint, according to police, grew out of an argument in February, 1946, between Adler and Morris Weiss, 65, whom the hotel man had hired to do some upholstery work. Weiss complained that Adler kicked him, police said, but Adler was quoted as saying he "only gave him a shove." Adler had been arrested after he failed to appear for trial. He posted bail, and sprinted a block away before stopping for newsmen to take his picture, explaining, "I just didn't want my picture taken in jail. I've got kids, you know." It is not clear if criminal charges were pursued, but Morris Weiss lost his $20,035 civil damage suit. (L. A. Times, Nov. 24, 1948.)
Despite his "long record of arrests," Adler was licensed to run El Rancho Vegas "after Wilbur Clark, Moe Dalitz' front man, left in 1947″ (Al W. Moe, The Roots of Reno). With a casino license, Adler was able to stay in the Nevada casino business setting up shop in Reno and Lake Tahoe.
On June 4, 1948, along with Charles Resnick, Mr. Adler bought Lake Tahoe's Cal-Neva lodge from Elmer 'Bones' Remmer San Francisco hotelman, for $700,000 or $800,000. (Reno Gazette Journal, June 4, 1948; Long Beach Independent, June 5, 1948.)
Next, on September 11, 1948, Adler and Resnick bought Reno, Nevada's Fordonia Building (which had held the Zemansky Brothers' Club Fortune) from Jack Sullivan and Jim McKay for "$350,000 cash." (Sacramento Bee, Sept. 11, 1948.) The Online Nevada Encyclopedia reports the sale "to a group of Jewish investors including Sanford Adler, Louis Mayberg, Morris Brodsky, and Charles Resnick" and says they "spent a half million dollars remodeling the facility, which became the Club Cal Neva." (Jews in Reno Gaming); Mob City, p. 113.)
Then, in October 1952, Adler and Resnick bought the Tahoe-Biltmore. "Charles Resnik [sic], an Adler partner, said the firm, operators of the Cal-Neva lodge at the lake and the Club Cal-Neva in Reno, had paid approximately $350,000 to Joseph Greenbach, a California hotel operator, for the lake resort." The Adler group bought the Tahoe-Biltmore as an "annex to Cal-Neva." (Reno Gazette-Journal, Oct. 16, 1952.)
However, Sanford Adler could not withstand government scrutiny for long. "Newspaper accounts placed him in a group of known mobsters like Joey Adonis, Meyer Lansky, and Frank Costello." (Al W. Moe, Mob City: Reno (2013), p. 149.) He was looking to sell in December 19, 1954, with the San Bernardino County Sun reporting (from the AP wire) that the "Internal Revenue Bureau recently filed $78,000 in tax liens against three gambling establishments owned by Adler." "In October of 1955, he and his partners were asked by the Gaming Control Board to provide a full accounting of their ownership." "Adler failed to appear before the Gaming Control Board and lost his license." (The Roots of Reno, p. 205.)
In 1956, news outlets reported that the Internal Revenue Service was after Adler for $400,000 in back taxes from the casinos.
California Country Club Estates' Merchant Builder (1951-1955)
The Santa Monica Freeway was a decade off, and Southern Pacific's Santa Monica Air Line passenger service was infrequent (and would end in 1953), so the below (June 8, 1952) advertisement said that homes were "within walking distance of bus lines." Also, since the private Rancho Country Club had become the public Cheviot Hills Recreation Center in 1949, he touted its "public swimming pool and tennis courts."
The Los Angeles Historic Resources (SurveyLA) gives some of the same background about the developer as is found here – in part because they relied on pages from an earlier version of this website and assistance from its author:
The Los Angeles Historic Resources (SurveyLA) calls the California Country Club Estates neighborhood a "good example of a residential subdivision from the mid- 20th century":
Northridge's Living-Conditioned Homes (1957-1959)
Sanford Adler's best-known development may be his "Living-Conditioned Homes" in Northridge, California.
Architectural historian Sian Winship, in her 2011 master's thesis, discusses Adler's involvement the Living-Conditioned genre: