Cheviot Hills' ​(often renamed & mostly tennis) Club
The first tennis would be played at the Palomar Tennis Club on August 16, 1925, per a Los Angeles Times article. The paper reported that the club, at 3084 Motor Avenue in the southeast corner of the Cheviot Hills subdivision, was still under construction: "The Palomar Tennis Club's first two courts will be thrown open for use tomorrow morning, according to an announcement yesterday by Rans Abbott, manager or that organization. The courts were finished last week, but have been given additional time to set. The exhibition and championship courts are the ones that are finished."
Nearly six months later the Times covered the groundbreaking for the "new $100,000 Palomar Tennis clubhouse and swimming pool at Cheviot Hills near the California Country Club." Harvey Burton Snodgrass (1896-1983) "turned the first racketfull of dirt … assisted by Mrs. Hazel Benedict, wife of the club's vice president." The design would be "true Spanish, very low and long." (L. A. Times, Jan. 25, 1926.)
The following January, as construction continued, a report said that recently "ground was broken for the clubhouse of the Palomar Tennis Club, which has just purchased six acres at Cheviot Hills." (L. A. Evening Express, Jan. 30, 1926.)
Although the above article quoted "Harvey Nelson of Franz Nelson & Sons, developers of Cheviot Hills" and featured a picture of club pro Harvey Snodgrass congratulating club president William Franklin "W. F." Buck (1896-1944), it left out Buck's connection to the developers. In fact, W. F. Buck, was a Nelson family member. Buck had married Bernice Ethelda Nelson (1896-1991) in Nebraska in 1920, before the families moved west.
So, the Palomar Club was essentially part of the Cheviot Hills development, with the Nelsons nearby: William and Bernice resided at 10275 Dunleer Drive in 1931, two blocks from the club. (Before passing away in 1924, Bernice's brother George had begun building a house a block closer at 3053 Motor Avenue, which may have stayed in the family.) Frans Nelson tells it this way in his biography: "We also built a clubhouse near the properties complete with plunge and tennis courts." And, in his obituary, Frans Nelson was remembered for founding the club:
Apocryphal Origin Story
As early as 2013 the club, then known as the Beverly Hills Country Club, claimed it was started by Elmer Griffin.
"Fabled" is an appropriate adjective for the club's origin story since nothing in the contemporaneous history of its opening connects it to Elmer Griffin. And Griffin's connection would have been touted, given his celebrity in the 1920s. Indeed, he was one of three Griffin Brothers – Clarence James Griffin (1888-1973), Elmer John Griffin (1896-1980), and Mervyn Edward Griffin (1901-1956) – who were well-known tennis players in the 1920s. For instance, the 1920 California tennis rankings had Clarence in second place; Mervyn in sixth; and Elmer in ninth. Each is in the United States Tennis Association Northern California Hall of Fame. (Robert Lindley Murray: the Reluctant U. S. Tennis Champion, Roger W. Ohnsong (2011) p. 77.)
In 1926, Elmer Griffin was not starting up a tennis club in Los Angeles; instead, he was living in New York City. In April 1930, the New York Times reported Helen Wills-Moody's triumph over "veteran Elmer Griffin … who now lives in New York. Griffin … first played against Mrs. Moody in 1917, and since coming to New York four years ago has been the first every year to oppose her in exhibitions here." (Thus, Griffin moved to New York City in 1926.)
Elmer Griffin's only apparent connection to the Cheviot Hills club is that he played there. For instance, in 1935, he played up-and-comer Bobby Riggs (1918-1995).
Griffin and Riggs share another connection: decades apart they would engage in tennis matches against top women's players. As the above April 1930 New York Times article shows, Griffin was playing exhibition matches against Helen Wills-Moody –decades before Riggs did it in the sensational 1973 "Battle of the Sexes" match versus Billy Jean King. Incidentally, in 1933, Helen Wills beat another man, eighth-ranked American male player Phil Neer, who, in 1930, also swung a racket at the Cheviot club.
In any event, in 2017, the club changed its name from "Beverly Hills Country Club" to "Griffin Club," perpetuating the fable:
The Club's Many Names
Palomar Tennis Club (August 16, 1925-1932)
Ransford "Rans" James Abbott (1898-1956) was the sales manager/manager of the Palomar Tennis Club when he announced the first two courts would be open for play the next day. (L. A. Times, Aug. 15, 1925.) In the January 3, 1926, L. A. Times, W. F. Buck (aka W. F. Buck, Jr.) was called the "newly elected president of the club." Buck confirmed the "report that Harvey Snodgrass, nationally famous tennis player and sixth ranking national player, will have the position of tennis professional exclusively for the Palomar Tennis Club." Buck said "three classes of courts will be constructed: clay, cement and gravel. The exhibition court grand stand will seat 3500 spectators." Others named were Maynard G. Benedict, vice-president and B. F. Bressler, secretary and treasurer. Snodgrass was "1925 national clay court tennis champion in doubles." (San Bernardino Daily Sun, Feb. 15, 1926.)
At the Palomar club, Snodgrass used the "slow speed motion picture camera as a short cut in tennis coaching." "A photographer on the sidelines 'shoots' the pupils as they go through their first few lessons. Then they are shown the film and all 'defects' in playing form are pointed out. Then back to the courts they go for correction." (San Bernardino Daily Sun, Feb. 28, 1926.)
On October 27, 1926, the Los Angeles Times reported the clubhouse's upcoming November 15th unveiling. It had been furnished by renowned interior decorator Howard Verbeck (1891-1959)
In April 1927, the club hosted whippet racing. (L. A. Times, March 27, 1927.) Cheviot Hills subdivider, Frans Nelson (who lived up the street), using the event to promote home sales, put up the purse.
By December 1928, William (Bill) Coit Ackerman (1902-1988) had "succeeded Harvey Snodgrass as instructor at the Palomar tennis club." (San Bernardino Daily Sun, Dec. 20, 1928.) In 1921, Ackerman, then a sophomore, became UCLA's tennis coach. He brought the school its first NCAA championship of any sort (in 1950) and was inducted into the NCAA ​Hall of Fame in 1984. He is the namesake of the student union building, Ackerman Union. (L. A. Times, May 17, 1984; L. A. Times, Feb. 17, 1988.) In 1919, Ackerman was in the first class at the University of California's Southern Branch (then on Vermont Avenue, the current site of Los Angeles City College). Reportedly (and coincidentally) his father surveyed John Wolfskill's Rancho San Jose de Buenos Ayres, where UCLA would relocate in 1929.
​​Later in 1927, the club added stables and bought six thoroughbreds to provide horseback riding for its members. (L. A. Times, Sept. 25, 1927.) ​​
Pacific Coast Tennis Club (1932-1933)
On December 8, 1932, the Los Angeles Times reported that "The name of the Palomar Tennis Club has been changed to the Pacific Coast Tennis Club." Art Park was the "professional in charge."
Palomar-Pacific Club (1933)
The Palomar-Pacific Club ran into trouble with the vice squad near the end of Prohibition – and not just for booze. In July 1933, fourteen were arrested on "various charges of gambling when Acting Captain of Detectives Sears, and his newly depleted Central vice squad raided the Palomar-Pacific Club …." He told the press, "in these places you can get the finest imported liquors in all kinds of fancy pre-prohibition drinks." (L. A. Times, July 8, 1933.) "At the time of the raid police officers reported finding a roulette wheel, crap tables and other gambling devices in operation." Only one of those arrested showed up for the first date set for trial, one Joseph Hanahan. Bench warrants were issued for the rest. (L. A. Times, Aug. 5, 1933.)
​​Colony Club (1933-1934)
On December 12, 1933, Colony Club manager S. Stanford Stickney and his attorney David Clark issued a "joint statement" resulting from a "complaint by the building and safety department that the establishment had failed to obtain a permit for certain alterations to the structure." "The Colony Club is closed and will remain closed, as far as we are concerned and we are turning in our lease!" (Post Record newspaper.)
A week earlier, December 5, 1933, the Eighteenth Amendment had repealed the Twenty-first Amendment, and alcohol was once more legal. In California, alcohol sales were covered by new rules: California's State Liquor Control Act. The Colony Club was among 32 "clubs" that the State Board of Equalization denied the right to sell pending a "proper showing." (L. A. Times, Jan. 13, 1934.) "Most places which were denied the privilege of selling beer and wines were listed as clubs and, generally, the board found that they were not truly clubs. In seeking renewals, the proprietors [were] obliged to show that their quarters [were] open to the public and that they compl[ied] fully with the law in other respects." The Colony Club was one of four listed as "widely known to the public."
Palomar Tennis Club (1934)
Apparently, the club used its original name again during this tumultuous year.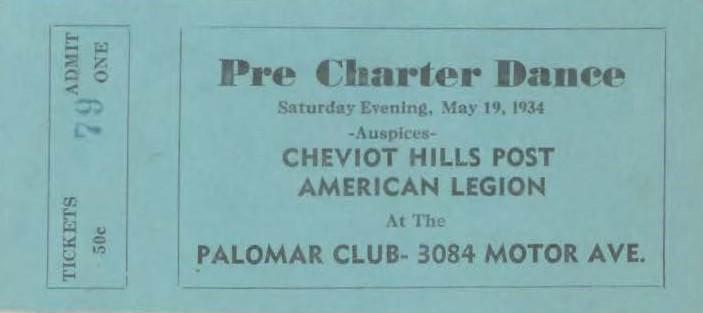 Bath and Tennis Club (1934-1935)
In 1934, Harvey Snodgrass was once again tennis pro at the club, which was now owned by a celebrity. The "Bath and Tennis Club, fashioned after the Long Island Club of the same name in the East. Nick Stuart, film actor, is president of the local club." At the time, the club featured "eight tennis courts, badminton and squash courts, a ninety by thirty-foot swimming pool, indoor sports, electric cabinet baths, health ray treatments and all the latest scientific conveniences." (L. A. Times, June 5, 1934.)
Later that year, sixteen-year-old Bobby Riggs played at the club, losing to Gene Mako (1916-2013) who "all but sweep his youthful opponent off the court." (L. A. Times, Dec. 24, 1934.) Riggs played there again in 1935. (L. A. Times, Nov. 28, 1935; L. A. Times, Dec. 8, 1935.) In 1939, Riggs won Wimbledon and U. S. National Championships (now the U. S. Open).
West Side Tennis Club (1936-1954)
In 1936, the Los Angeles Times reported:
In 1937, the Cheviot Hills Garden Club was meeting at the "West Side Tennis Club." (Garden Club History 1937.) It was still meeting there in 1950 (L. A. Times, Jan. 5, 1950) and into the 1970s (L. A. Times, Nov. 9, 1972). Indeed, many area groups (such as the American Legion, Palms Chamber of Commerce, and the Beverly Hills Republican Club) have gathered at the site.
​​​California Racquet Club (1955-1962)
In 1955, the Los Angeles Times featured an architect's sketch (below) of the Louis Gold-designed "remodeling and redecoration program to be carried out to transform the 7½ acres of former West Side Tennis Club in Cheviot Hills into California Racquet Club." The redo, set to open June 1st, was to include "tennis courts, two heated pools, children's play area, health club facilities, dining room, ballroom, cocktail lounge and parking lot." The California Racquet Club was "owned and operated by California Health Club, Milton Silberstein, president; Jack Broder, vice-president; and Mel Kahn, secretary-treasurer."
Standard Club (1962-1971)
This December 31, 1964, Los Angeles Times report has the wrong address and city (albeit newspapers have long referred to the area as Culver City). But the list of celebrity owners and former owners is consistent with other sources – and includes a foretaste of animosity from neighbors:
In April, 1964, Jack Broder was president, and Tommy Cook the tennis pro. (L. A. Evening Citizen News, Apr. 8, 1964).
​Cheviot Club or Cheviot Hills Club (1972)
In November 1972, the site was the "Cheviot Club" (L. A. Times, Nov. 9, 1972) or "Cheviot Hills Club" (L. A. Times, Nov. 16, 1972).
Westside Racquet Club (1973-1985)
​​​In May 1973, the Los Angeles Times reported the club's celebrity-filled board: "Bill Cosby, Kirk Douglas, Clint Eastwood, Janet Leigh Brandt and Liza Minelli have joined the board of governors of the new Westside Racquet Club."
​​
In 1985, Knight Development Corp. bought the club and planned improvements, upsetting some neighbors. Knight initially prevailed, with the Los Angeles Time reporting in December 1985, "Racquet Club Scores Win Over Neighbors." But that was only the beginning of the legal contest with the area homeowners' association which alleged the club brought traffic, noise, parking, and public urination. The article (excerpted below) covered ownership, membership, and why the club in the residential neighborhood had the right to keep operating as it had.
Beverly Hills Country Club (1986-2017)
'By the start of 1986, the Cheviot Hills Homeowners Association had sued the City of Los Angeles challenging its approval of the club's renovation. "Carlyle W. Hall, Jr., attorney for the association, said the association wants strict controls on the club's hours of operation, parking and noise." The news story said the club's board of directors included "Armand Hammer and Fred Hartley, actors Tom Selleck and Jim Nabors (1930-2017) and educators Charles E. Young and Norman Cousins."'
Bloomberg listed the following on the Beverly Hills Country Club's board: Buzz Aldrin, Gene Axelrod, Bjorn Borg, Yvonne Burke, Chris Carter, Jimmy Connors, Barbara Eden, Robert Finkelstein, Lawrence Gordon, Dale Gribow, Merv Griffin (1925-2007), George Hamilton, Peter Kelly III, Sherry Lansing, Chapin Hunt, Frank Jobe (1925-2014), Spencer Johnson, Rafer Johnson (1934-2020), Phil McGraw, Leslie Moonves, Jimmy Murphy, Jim Nabors, Matthew Perry, Wolfgang Puck, George Schlatter, Tom Selleck, Nancy Sinatra, Tina Sinatra, John Tunney, Arthur Ulene, Andrea Van de Kamp, Gary Wilson, and Harvey Zarem.
Bloomberg also listed Beverly Hills Country Club's "key executives" as: Greg Walker, Tennis Professional; Sara Berger, Catering Director; Paulo Hexsel, Executive Director of Tennis; and Trevor Sands, Director of Tennis.
On May 11, 2015, the Times reported the club's sale, including:
Griffin Club Los Angeles (2017-present)

In August 2017, the Hollywood Reporter covered the club's reopening as the Griffin Club. (Of course, it repeated the Elmer Griffin origin story.) Interviewed for the story, Graham Culp said:
The Hollywood Reporter outlined changes in the operation:
In April 2018, ACORE Capital provided a five-year, $46 million-dollar, loan (replacing a $30 million dollar loan) allowing for future work on the property, including an expansion of the club's kitchen services. (The Real Deal, April 23, 2018.)
Hervé Lévy was the club's general manager and chief operating officer from 2015-2021.